Maybe not quite as many tomatoes as some of you have harvested but at one point it seemed that we may not get any red (or yellow) tomatoes so we are happy with this lot and there are still more to come.
You may have read before that we have had problems with our tomatoes this year. The ones in our plot greenhouse have been a total disaster with all our successful cropping coming from the garden greenhouse. Both lots of tomatoes were grown from the same seed with some plants being planted in the plot greenhouse and others in the garden greenhouse. The only difference really was the compost that was used once they were potted up. The tomatoes in the garden greenhouse were planted in growbag compost and those on the plot in a multi-purpose compost from a local garden centre.
We sowed twelve varieties of tomatoes, some through choice and others because we acquired packets of seeds free with magazines. (You can't just leave them in their packets can you?) The varieties that we sowed are listed on a spreadsheet on this page of our website. We have grown some of the failed varieties successfully before but this year some even failed to germinate so again the only thing we can think to blame is poor compost. The photo above shows our most successful varieties. The large orange yellow one is Amish Gold (this had a really good flavour), the yellow one is Yellow Perfection, the one on the top left is Brandywine (a fairly small one as this variety can produce monsters like this one that we grew last year), next to that is Costoluto Fiorentino (the convulutions make this tomato a bit awkward to use especially the smaller ones), the small tomatoes are Tumbling Tom and the remaining one is Moneymaker.
We've also had some more tomatoes with confused identities ...
Another problematic crop this year has been our pea crop. This time it was more the weather than the compost that seemed to have been against us - I also suspect that something had nibbled any pea shoots that managed to break through the dry soil. The first sowing was fine but after that it was a battle. Last week a late sowing of peas actually managed to produce a small crop. It may have been small but the peas were a treat and not a maggot in sight.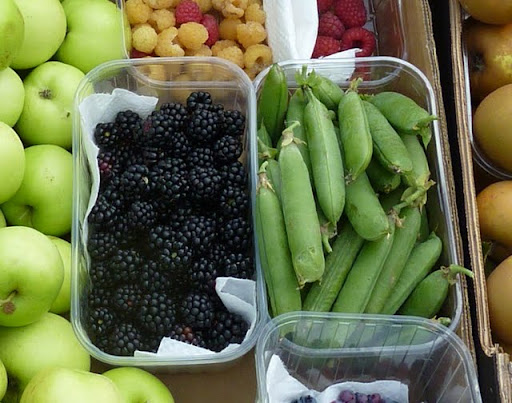 My full diary entry for last week can be read here (just in case you are interested) and last week's photo album can be viewed here