It is now the turn of the fruit trees to be stars of the show! They are a bit more flamboyant than the currants and gooseberries that prefer a more subdued display.
Although the plum and gage trees seemed that they were going to disappoint, they have tried their best and I am hoping for at least some fruit. The photo below is the Victoria plum. The Oullins gage that last year produced masses of delicious yellow plums seems to be going to have a rest this year.
The small cherry tree - Summer Sun - is wearing it's blossom like a sleeve.
Just hope the pear tree growing in our garden - Conference - doesn't drop its fruit on the roof of the greenhouse this year
New pear trees planted on the plot have a few flowers too.
The newly planted quince also has a few flowers - although most haven't quite opened yet.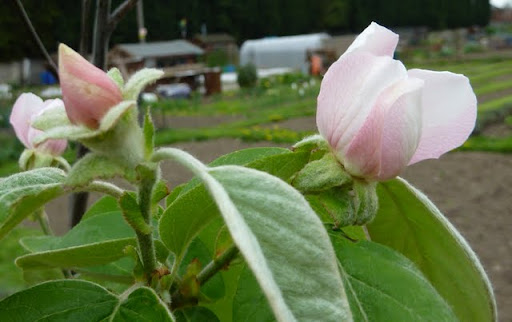 We have a couple of crab apples in the garden. One is John Downie which produces edible fruits as well as being a popular refuge for birds waiting for their turn to visit the bird table.
The other variety - Profusion is also a popular bird haunt. It doesn't produce edible fruit - other than for blackbirds etc but I didn't want it to feel left out. Once all the flowers are fully opened it looks spectacular - it has bronzy coloured leaves too.
The young apple trees are beginning to flower - this will really be their first fruit bearing year - I hope! The one below is Egremont Russet.
We inherited some old cordon apples when we took our plot. Although they are very old now they still produce a good harvest of fruit. Although, in past years, many of the fruits have been spoiled by pests such as codling moth caterpillars that burrow into the fruits.
This year we are making a concerted effort to deal with any pests. We've already greasebanded everything and yesterday hung a codling moth trap. Apparently May is the correct month to install it.
The lure inside the trap is supposed to give off a pheromone that attracts male moths, entrapping them and preventing them mating with the females. The lure can then be replaced each year. It also is supposed to be effective over half an acre so our plot neighbours should benefit too.
A second trap has been hung on the apple trees in our garden so we will just have to wait and see if they work!
For a full description of how we are trying to protect our apple trees from pests this year click here
We bought our traps from Harrod Horticultural to view the product on their website click here
PS - I bet you never noticed that I had changed the header picture again!